Pre-Theatre Menu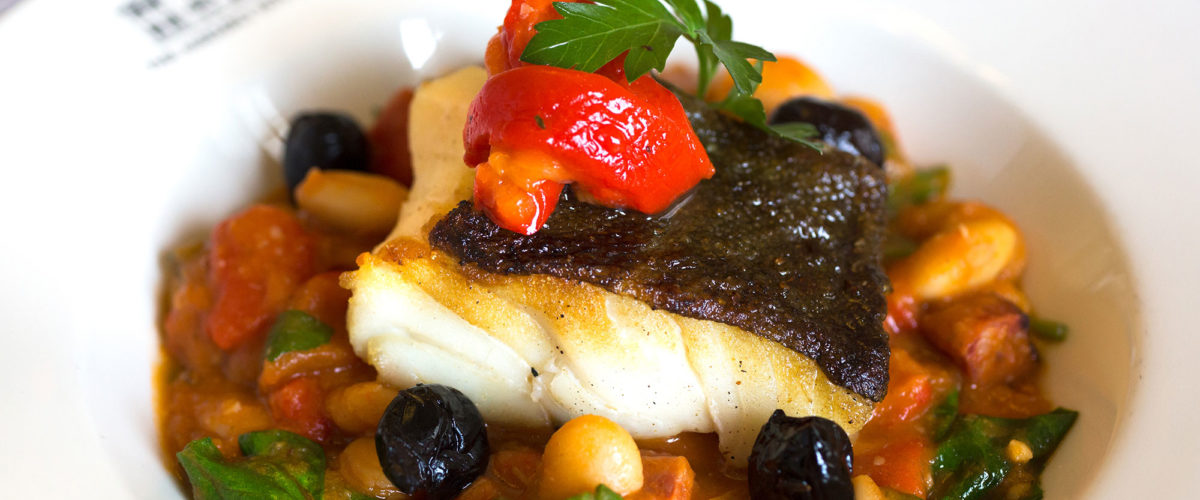 Menu
Two courses £17.00, Three courses £21.95. Available 5pm to 7pm - Seven days a week
Starters
plum tomato, roasted red pepper and olive oil soup
V
GF
fresh basil oil
smoked mackerel and spring onion salad
smoked mackerel mousse, pickled vegetables, granary croutons
goats cheese and walnut fritters
V
mango and coriander salsa
caponata salad of warm aubergine, tomatoes, olives, celery and raisins,
V
with fresh oregano on toasted sourdough
baby gem lettuce,
V
Parmesan-style vegetarian cheese, croutons, grapes, apple, Caesar dressing
Mains
chicken maryland
buttermilk fried chicken, smoked bacon, banana chutney, charred sweetcorn, sweet potato
pan-fried stone bass fillet
roasted cauliflower, sage and hazelnut butter, orange peel
6oz chargrilled minute sirloin steak, cooked medium rare, french fries
GF
baked tomato, garlic butter, green salad (£3 Supp.)
roasted sweet potato, bulgher wheat
V
golden sultanas, warm saffron vinaigrette, flat leaf parsley
baked, stuffed beef tomato,
V
GF
wild herb rice, grilled courgette, preserved lemon and black pepper dressing
Desserts
sugared pastry tart
V
fresh strawberries, strawberry ice cream, strawberry and elderflower syrup
gooseberry and elderflower fool
V
ginger fairing biscuit
apricot bakewell tart
V
clotted cream
affogato
V
GF
vanilla ice cream with a shot of espresso
Mrs Temples Binham Blue
V
pear chutney, millers damsel biscuits
Les Mis Pre-Theatre Menu
Available March 4 2020 to April 4 2020. 5pm to 7pm
French onion soup, cheese sippet V
Country-style terrine of pork, apricot and prune, cornichons, toasts
Roquefort, pear, frisée and toasted walnut salad V
Wild mushroom, lentil and garlic tartine Vn
Baked Camembert studded with garlic and rosemary, crusty bread (for two people to share)
***
Herb-roasted cod fillet, ratatouille, Parmentier potatoes, saffron aioli
Daube of beef Bourguignon, smoked mash, green beans
Pan-fried minute sirloin steak, fries, mushroom, tomato, garlic butter £3 supplement
Leek, apple and goat's cheese galette, Dijon-dressed mache salad V
Beetroot, shallot and artichoke tart Tatin, creamed spinach V

***
Side dishes
French fries, truffle mayo
Celeriac dauphinoise
Petit pois à La Française
Black pudding with apples and Calvados
Garlic butter fougasse
***
Lemon tart, raspberry sorbet
Floating islands; poached meringue, chilled custard, caramel, apple compote
Le Grande Choux, whipped cream, hot chocolate sauce
The Assembly House Gateau Opera, coffee ice cream
Brie de Meaux, fig and walnut loaf, truffle honey, grapes
Two courses £21, three courses £25​​

Side dishes £3.95 each
Gluten free, Dairy Free and Vegan diets can be catered for with prior notice.
All our dishes are cooked fresh to order. Our food is prepared in an environment where nuts and shellfish are present. If you have any allergen enquiries please ask a member of our team. Prices are inclusive of VAT. A discretionary 10 per cent service charge will be added to your bill.
Get In Touch
The Assembly House
For all general enquiries including wedding, private dining, corporate or questions about the House please use the form below and our team will aim to get back to you within 48 hours.