Pre-Theatre Menu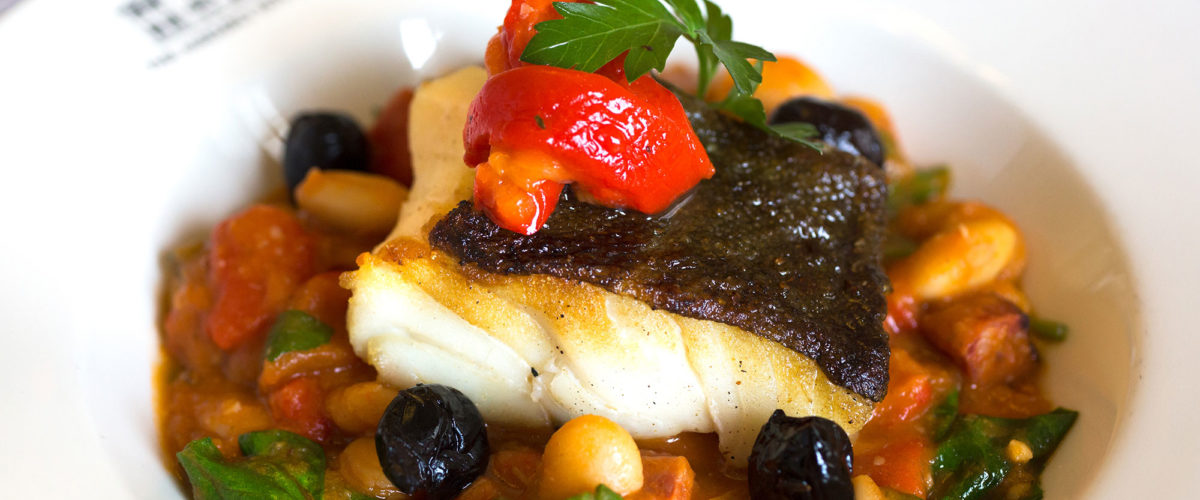 Menu
Two courses £16.00, Three courses £20.00. Available 5pm to 7pm - Seven days a week
Starters
OAK-SMOKED TROUT FILLET,
GF
NEW POTATO SALAD, SAUCE VIERGE
BUFFALO MOZZARELLA
V
GF
HERITAGE TOMATO AND BASIL SALAD, BLACK OLIVE TAPENADE, SMOKED ALMOND
MUSSEL, LEEK AND SAFFRON CHOWDER
LEMON, GARLIC AND PARSLEY BREAD
RED LENTIL, CARROT AND APPLE DHAL
V
GF
SPICED ROASTED CAULIFLOWER, MANGO, YOGHURT, CORIANDER (ALSO AVAILABLE AS A MAIN COURSE)
SMOKED CHICKEN AND HAM HOCK TERRINE,
ONION MARMALADE, SOURDOUGH
Mains
SEARED SALMON ESCALOPE
GF
TENDERSTEM BROCCOLI, CRUSHED NEW POTATOES, ORNAGE AND CHIVE BUTTER
CONFIT DUCK LEG WITH PRUNE AND COGNAC
GF
ROASTED RED ONION, DAUPINOISE POTATOES
SLOW-COOKED BELLY OF DINGLEY DELL PORK
GF
BRAISED LENTILS, APPLE CHUTNEY, CRISPY SAGE AND CRACKLING
SHALLOT AND APPLE TARTE TATIN,
V
BEETROOT, CREAMED SPINACH, HORSERADISH CREME FRAICHE
Grilled 6OZ SIRLOIN STEAK
GF
FRENCH FRIES, GREEN SALAD, BEARNAISE (£3 SUPP.)
Desserts
MARK MITSON'S BAKEWELL TART
V
VANILLA ICE CREAM 
ROASTED FRESH PINEAPPLE
V
COCONUT ICE CREAM, BUTTERSCOTCH, BLACK PEPPER BISCUIT
CHOCOLATE AND PEANUT BUTTER FUDGE SUNDAE
V
BARON BIGOD BRIE, (UNPASTEURISED)
PICKLED GRAPES, MILLER DAMSEL CRACKERS
smoked Norfolk dapple cheese
Pye Baker eccles cake
Gluten free, Dairy Free and Vegan diets can be catered for with prior notice.
All our dishes are cooked fresh to order. Our food is prepared in an environment where nuts and shellfish are present. If you have any allergen enquiries please ask a member of our team. Prices are inclusive of VAT. A discretionary 10 per cent service charge will be added to your bill.
Get In Touch
The Assembly House
For all general enquiries including wedding, private dining, corporate or questions about the House please use the form below and our team will aim to get back to you within 48 hours.