Pre-Theatre Menu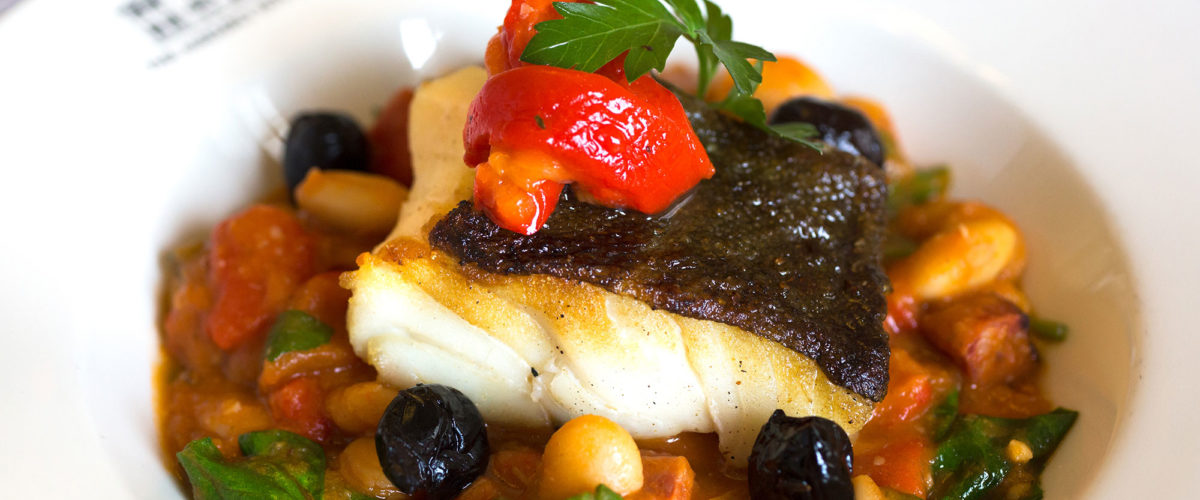 Menu
Two courses £17.00, Three courses £21.95. Available 5pm to 7pm - Seven days a week
Starters
roasted tomato and red pepper soup
V
crispy three cheese toastie
butterbean hummus
V
beetroot salad, pitta bread, extra virgin olive oil
warm caramelised onion tart
V
crema cheese and chive, toasted spiced walnuts
slow cooked pork cheek
celariac, Adnams Broadside, Colman's mustard and prune
buttered portwood farm asparagus
V
poached free-range egg, chive, lemon and hazelnut (£3 supp.)
Mains
herbed cromer crab cake
garlic mayonnaise, baby gem, tomato, basil, mozzarella pearls
rosemary and lemon-roasted chicken breast
GF
ratatouille, toasted almonds, wilted rocket
6oz grilled minute sirloin steak, shoestring fries
GF
baked tomato and grilled mushroom (£3 Supp.)
norfolk dapple, cheese, onion and potato pie
V
braised savoy cabbage, marmite butter sauce
pistachio and mint falafel,
V
crushed avocado, maple roasted sweet potato, spinach, saffron oil (vegan)
Desserts
chocolate chip cookie and ice cream sandwich
V
white chocolate sauce
coconut financiers
V
pineapple sorbet, chilli, lime and ginger syrup
lavender meringue, poached strawberries, Earl Grey tea syrup
V
affogato
V
best vanilla ice cream with a shot of hot espresso
Binham Blue and Smoked Dapple cheeses
tomato chutney, biscuits
Les Mis Pre-Theatre Menu
Available March 4 2020 to April 4 2020. 5pm to 7pm
French onion soup, cheese sippet V
Country-style terrine of pork, apricot and prune, cornichons, toasts
Roquefort, pear, frisée and toasted walnut salad V
Wild mushroom, lentil and garlic tartine Vn
Baked Camembert studded with garlic and rosemary, crusty bread (for two people to share)
***
Herb-roasted cod fillet, ratatouille, Parmentier potatoes, saffron aioli
Daube of beef Bourguignon, smoked mash, green beans
Pan-fried minute sirloin steak, fries, mushroom, tomato, garlic butter
Leek, apple and goat's cheese galette, Dijon-dressed mache salad V
Beetroot, shallot and artichoke tart Tatin, creamed spinach V

***
Side dishes
French fries, truffle mayo
Celeriac dauphinoise
Petit pois à La Française
Black pudding with apples and Calvados
Garlic butter fougass
***
Lemon tart, raspberry sorbet
Floating islands; poached meringue, chilled custard, caramel, apple compote
Le Grande Choux, whipped cream, hot chocolate sauce
The Assembly House Gateau Opera, coffee ice cream
Brie de Meaux, fig and walnut loaf, truffle honey, grapes
Two courses £21, three courses £25​​

Side dishes £3.95 each
Gluten free, Dairy Free and Vegan diets can be catered for with prior notice.
All our dishes are cooked fresh to order. Our food is prepared in an environment where nuts and shellfish are present. If you have any allergen enquiries please ask a member of our team. Prices are inclusive of VAT. A discretionary 10 per cent service charge will be added to your bill.
Get In Touch
The Assembly House
For all general enquiries including wedding, private dining, corporate or questions about the House please use the form below and our team will aim to get back to you within 48 hours.