Pre-Theatre Menu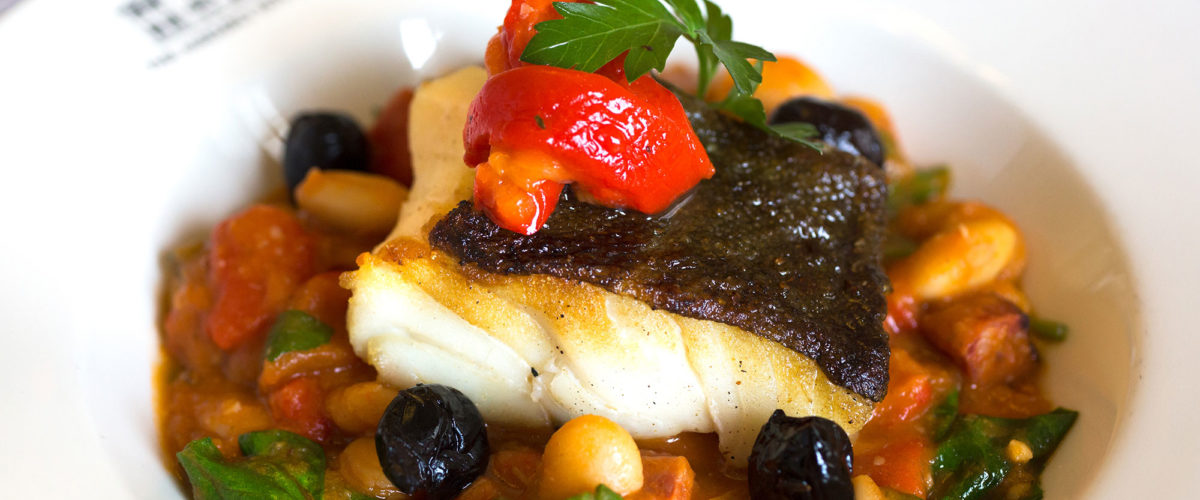 Menu
Two courses £17.00, Three courses £21.95. Available 5pm to 6.30pm - Seven days a week
Starters
Lightly curry-spiced winter vegetable soup,
coconut cream
Smoked mackerel pate, smoked mackerel,
spring onion and lemon salad, pickled cucumber, horseradish yoghurt, granary toasts
Slow-cooked ham hock, cider and parsley terrine
sticky fig chutney, toasted sourdough
Toasted goats cheese salad
caramelised walnuts, celery, apple and grapes
Hummus, olives, home-pickled vegetables
rocket, pitta bread
Mains
Rosemary-roasted chicken, sage and onion crumble
chipolata, bacon, winter greens, celeriac puree, tarragon cream
Grilled fillet of sea bass
crushed new potato tartare, French-style peas, prawn, tomato and dill dressing
Chargrilled minute steak
garlic butter, shoestring fries, herbed baked tomatoes, green salad (£3.00 supplement)
Parsnip, red onion, chestnut and sage Wellington,
roasted celeriac, braised lentils, apple sauce
Spiced roasted cauliflower
red lentil dhal, coriander, coconut and cashew salad
Desserts
Soft chocolate and almond cake
white chocolate ice cream, cherry compote
The Assembly House Christmas pudding
boozy prunes, Cognac custard
Sticky toffee apple pudding
caramel and custard sauces
Pink peppercorn meringue
creme fraiche, blueberry compote
Long Clawson Stilton and Smoked Norfolk Dapple cheeses
Bramley apple chutney, Miller's Damsel crackers
Les Mis Pre-Theatre Menu
Available March 4 2020 to April 4 2020. 5pm to 7pm
French onion soup, cheese sippet V
Country-style terrine of pork, apricot and prune, cornichons, toasts
Roquefort, pear, frisée and toasted walnut salad V
Wild mushroom, lentil and garlic tartine Vn
Baked Camembert studded with garlic and rosemary, crusty bread (for two people to share)
***
Herb-roasted cod fillet, ratatouille, Parmentier potatoes, saffron aioli
Daube of beef Bourguignon, smoked mash, green beans
Pan-fried minute sirloin steak, fries, mushroom, tomato, garlic butter £3 supplement
Leek, apple and goat's cheese galette, Dijon-dressed mache salad V
Beetroot, shallot and artichoke tart Tatin, creamed spinach V

***
Side dishes
French fries, truffle mayo
Celeriac dauphinoise
Petit pois à La Française
Black pudding with apples and Calvados
Garlic butter fougasse
***
Lemon tart, raspberry sorbet
Floating islands; poached meringue, chilled custard, caramel, apple compote
Le Grande Choux, whipped cream, hot chocolate sauce
The Assembly House Gateau Opera, coffee ice cream
Brie de Meaux, fig and walnut loaf, truffle honey, grapes
Two courses £21, three courses £25​​

Side dishes £3.95 each
Gluten free, Dairy Free and Vegan diets can be catered for with prior notice.
All our dishes are cooked fresh to order. Our food is prepared in an environment where nuts and shellfish are present. If you have any allergen enquiries please ask a member of our team. Prices are inclusive of VAT. A discretionary 10 per cent service charge will be added to your bill.
Get In Touch
The Assembly House
For all general enquiries including wedding, private dining, corporate or questions about the House please use the form below and our team will aim to get back to you within 48 hours.