THE TEN (FOOD) COMMANDMENTS BY JAY RAYNER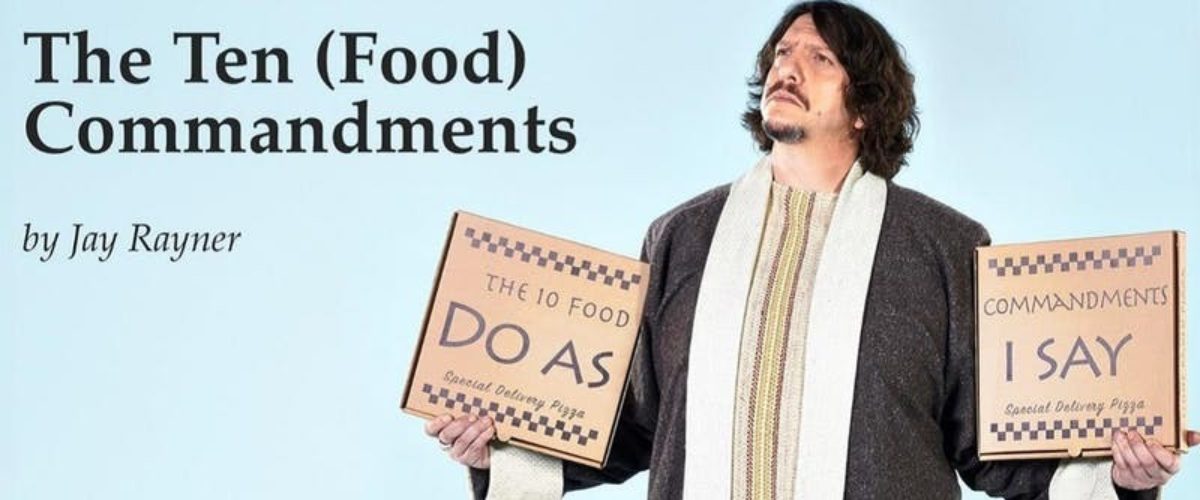 Thu 29th Nov 2018 - 8pm
The original Ten Commandments have very little to offer when it comes to the complex business of how and what we eat. Now the award-winning restaurant critic and Masterchef judge, Jay Rayner, has decided it's time to act.
  Join our very own culinary Moses in this audio-visual romp as he attempts to lead us to the edible promised land. He'll explain why thou shalt always eat with thy hands, why thou should most definitely worship leftovers, and why thou must celebrate the stinkiest of foods. Plus he'll invite thee to honour thy pig - and so much more besides. Join the chair of BBC Radio 4's Kitchen Cabinet as he sets out to provide hilarious guidance on the very best way to eat now. Includes Q&A and book signing.
8pm show start.
Pre theatre dining available from 5.30pm (last orders for show ticket holders 6.30pm).
Menu:
Potted Binham Blue, Fig Chutney, Toast
March Pig Charcuterie Plate, Bread and Butter Pickles, Toast
***
Pan Fried Halibut, Spinach Gnocchi, Salt Cod Fritter, Shellfish Bisque
Slow Cooked Beef Cheek, Roasted Carrots, Smoked Mash, Gremolata
Roasted Fenland Pumpkin, Mardler Goats Cheese, Dates, Almonds, Norfolk Saffron Oil
***
Bakewell Tart, Poached Cherries, Vanilla Ice Cream
Smoked Norfolk Dapple, Eccles Cake
Show tickets £20.00pp. Tickets for show and dinner £42.00pp. To reserve a table for dinner please call The Assembly House on 01603 626402.
Date: Thursday 29th November 2018
Time: 20:00 (pm)
Price: £20.00 for ticket only. £42.00 with dinner
Get In Touch
The Assembly House
For all general enquiries including wedding, private dining, corporate or questions about the House please use the form below and our team will aim to get back to you within 48 hours.