The House of Millan: A Night at Studio 54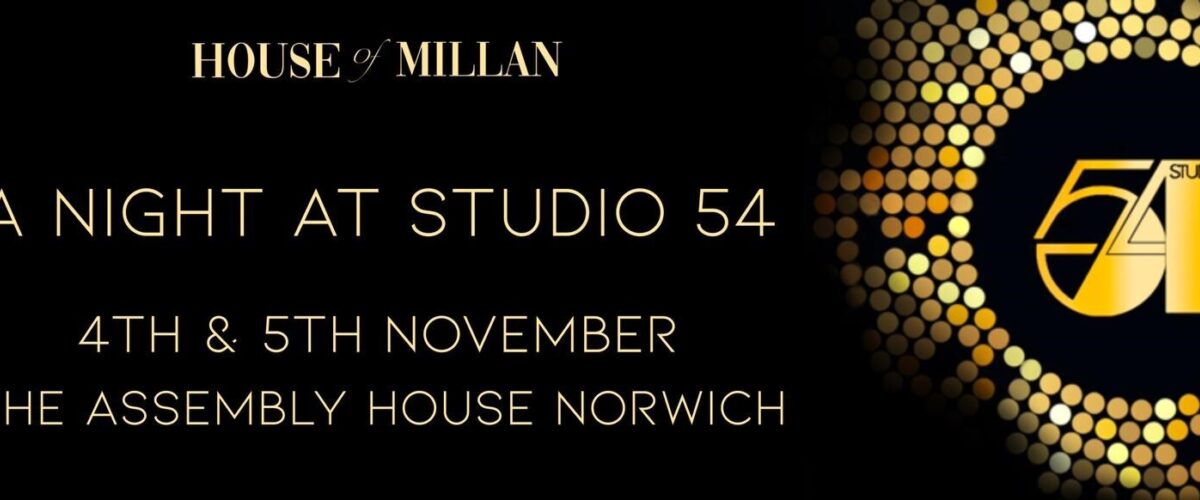 Fri 4th Nov 2022 - 7pm
£65 per ticket, includes show and three-course dinner designed by Richard Hughes

Outrageous. Era-defining. Legendary. Don't miss your chance to party at the mecca of disco culture, the notorious 1970s New York nightclub Studio 54, recreated at The Assembly House for two nights only.
Experience the glitz, glam and glitterballs at the temple of groove where disco was born and where A-listers partied all night under the lights after walking the infamous Corridor of Joy.
This November, the House of Millan pays tribute to iconic Manhattan nightclub Studio 54, riding the wave of 1970s dance music to the beat of original disco with a contemporary cabaret twist.
Dress to impress as your glamorous best self and join us for a retro cocktail in the Grand Hall before you take your seat for a 1970s-inspired three-course dinner designed by Chef Proprietor Richard Hughes (think prawn cocktail, buttermilk fried chicken and Black Forest Gateau). Then be immersed in a spellbinding night of cabaret from the House of Millan in a disco decadence glitter explosion of epic proportions!
Be quick to secure your tickets – previous House of Millan events at The Assembly House have sold out fast and – if your name's not down, you're not coming in.
Menu:
Vol au vent of prawn, cucumber and avocado, Marie Rose dressing
Vol au vent of marinated tomato, cucumber, avocado and basil VG
***
Southern fried buttermilk chicken, sweet potato wedges, creamed corn, slow roasted tomato, bacon jam
Pumpkin, spinach, sage and hazelnut arancini, roasted pepper fondue, sauté of garlic, wild mushrooms VG
***
Black Forest Gateau Opera, vanilla ice cream
Poached pear in red wine, cinnamon syllabub VG
Get In Touch
The Assembly House
For all general enquiries including wedding, private dining, corporate or questions about the House please use the form below and our team will aim to get back to you within 48 hours.