MURDER IN THE MUSIC ROOM!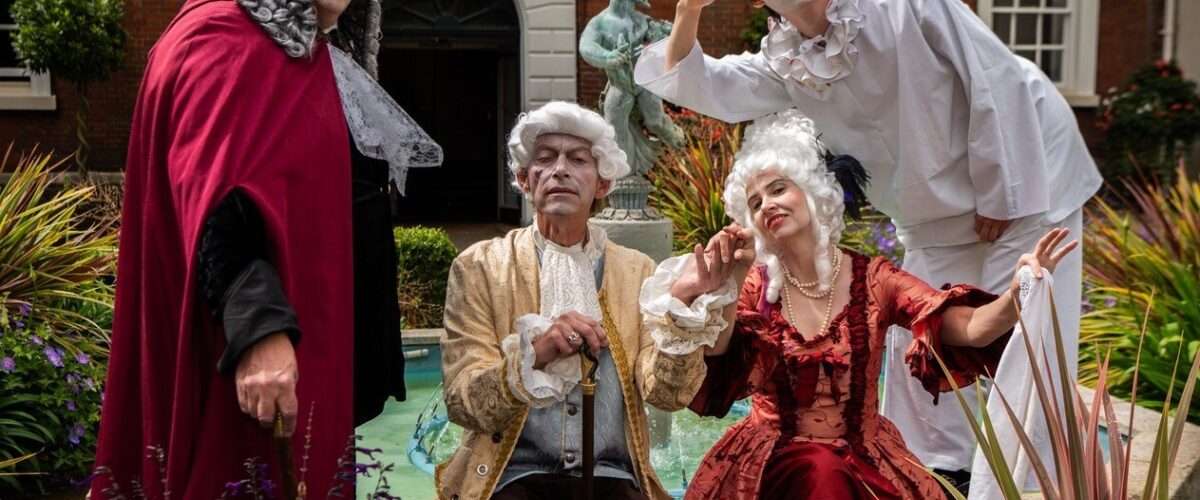 Sat 25th Nov 2023 - From 6.30pm
Something wicked this way comes…The Assembly House is hosting a murder mystery night after darkness falls with a delicious mulled wine and canapé reception in the Grand Hall, a sumptuous three-course dinner in the beautiful Music Room and a night of frighteningly good immersive theatre as you dine.
Theatre company Dreamstone Productions has created an Assembly House-themed murder mystery based on the history of the House, guaranteeing a night of thrills, chills and at least one kill on a Winter evening at Norwich's most glittering address. Dare you join us for the event of the season?

The plot…
It is 1754 and King George II is on the throne.
Norwich architect Thomas Ivory is presiding over his newly opened House of Assemblies and local gentry are gathered to enjoy a grand meal and see Ivory's theatre group, The Norwich Company of Comedians, perform.
Everyone is anticipating a marvellous night of fine dining, glamour and entertainment – exactly what the Assembly House was built for!
However…putting on a play may be far more complicated and dangerous than Ivory and his group realise. There are some surprises on the guest list and people there with dark pasts and secret motives!
Do you dare join Ivory and his friends to help them celebrate – and even perhaps help to figure out Whodunnit? Beware – if you do you will be in for a killer evening! Georgian dress is encouraged…but definitely not compulsory!
The menu:
A glass of mulled wine and canapés on arrival in the Grand Hall.
Spiced prawn tartlets
Warm tomato tartlets
Stilton toasts
Savoury walnut cakes
***
Mosaic of smoked chicken, ham, pheasant and pistachio, spiced marmalade dressing, malt bread (Chilled beetroot Charlotte, pickled red onion, hazelnut and apple )
***
'Overnight Beef', smoked potato, wild mushroom, baked carrot, sourdough crumb, beef tea (Celeriac fondant, smoked potato, wild mushroom, baked carrot, sourdough crumb, mushroom tea)
***
Olde English trifle of sherry-soaked sponge, custard, raspberry, syllabub, almond praline, honey and stem ginger
£65.00pp
Get In Touch
The Assembly House
For all general enquiries including wedding, private dining, corporate or questions about the House please use the form below and our team will aim to get back to you within 48 hours.