Let us be part of your love story!

A fairytale wedding needs a fairytale setting and a venue your guests will be talking about for years to come - visit us and find out how we can make all your wedding day dreams come true!
Our historic House in the heart of Norwich offers a touch of Georgian splendour which will bring your wedding photographs to life and become the backdrop to a stunning, stylish and magical day.
A delightfully elegant setting for a wedding, our historic House offers a touch of Georgian splendour which will bring your wedding photographs to life and provide a venue your guests will be talking about for years to come.
Our in-house wedding team guide you every step of the way towards the day of your dreams, whether you're planning an intimate wedding for close friends and family or a huge event with a reception for several hundred guests. We also have an incredible bridal suite which is perfect to get ready in before the big day (the marble bathroom has seen 20 people fit inside it for one memorable wedding!) and then relax in as newly-weds.
We have a selection of rooms to choose from or you can book the entire House – everyone dresses to impress on their wedding day and The Assembly House is no exception, from our glittering chandeliers to our gorgeous Grand Hall, we are always ready for our close-up!
We'll help you plan every last detail, from colour schemes to floral displays, an infinite number of dining options to entertainment and decorations – we ensure that the day you become Mr and Mrs, Mr and Mr, Mrs and Mrs or Mx and Mx at The Assembly House will be a truly unforgettable experience.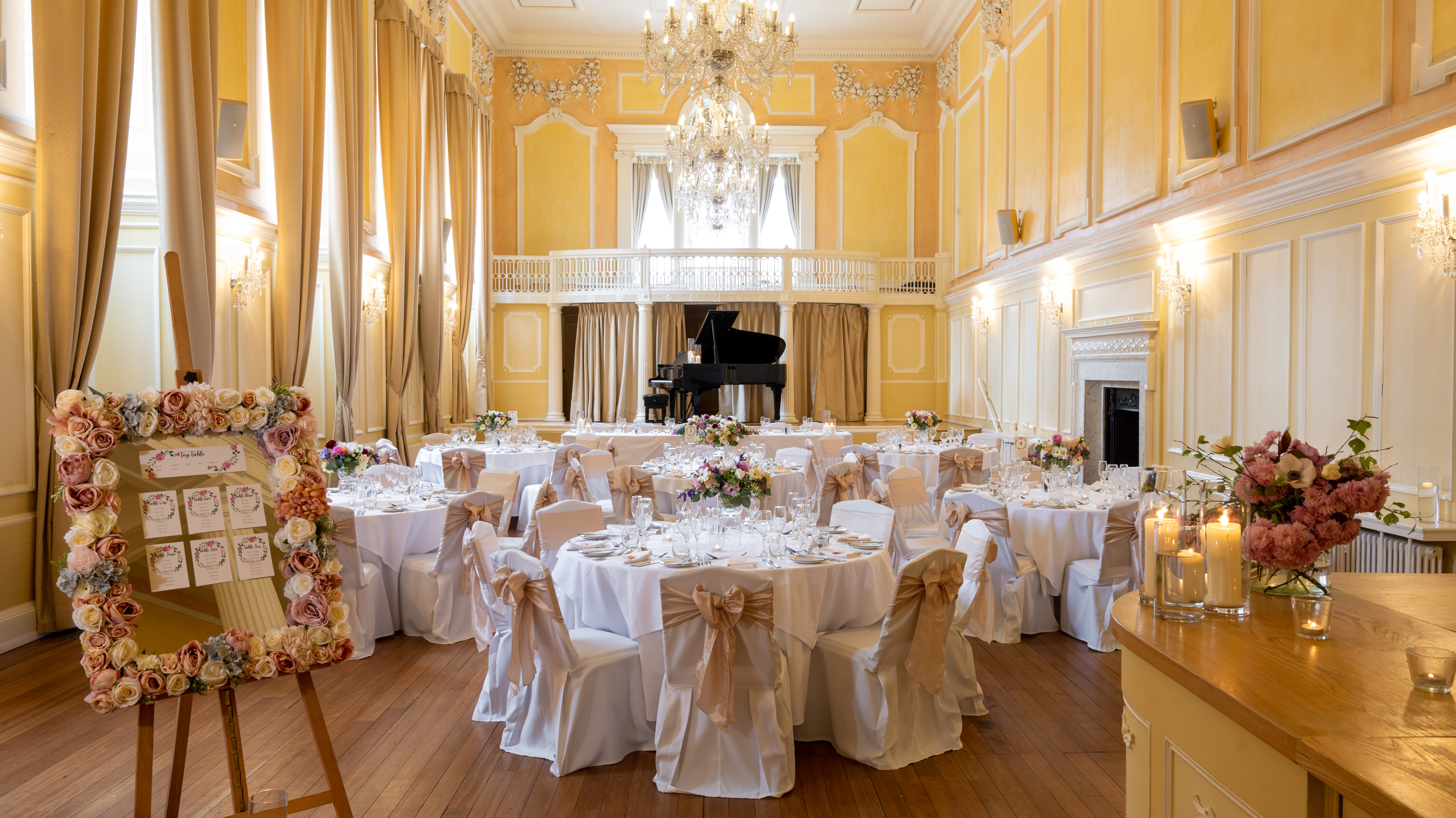 Our venue is licensed for civil and partnership ceremonies and is also a wonderful backdrop for sophisticated hen parties (talk to us about chocolate-making experiences at The Richard Hughes Cookery School!) and anniversary celebrations.
Let us be part of your love story. For further details or to make an appointment to view the venue, call 01603 626402 or email admin@assemblyhousenorwich.co.uk
Please be advised, we handle numerous allergens in our kitchens and due to the potential for cross contact, we cannot guarantee that our food is free from any allergens including tree nuts. We do not declare every ingredient used within a dish on this menu, and recipes may be subject to change. If you have an allergy, please let us know when booking and before ordering so we can provide you with an allergy information in relation to the 14 legally-defined allergens.


Fiona and Mark
Mark and I would like to say a huge thank you for making our wedding on 28th October 2023 so very special. The team were absolutely incredible. Kirsten was fantastic with her calm and organised matter which put me at ease greatly. The waiting girls were just so attentive and fun and with their swift service of the amazing food and drinks, us and our guests were totally looked after. Nothing is too much trouble from everyone at The Assembly House. Outstanding all round and we will remember it always.

Jemma and Mark
We would like to say a really big thank you to you and all of The Assembly House team for making our day so special. From the moment we made a wedding enquiry, everything has been excellent. Thank you for always getting back to us so quickly and for making planning the day feel easy and relaxed. We really can't fault anything and have already started recommending The Assembly House to friends who are engaged!
The day was just perfect. The food was amazing and the service excellent. Every member of staff was lovely, and a special mention to Jamie who went above and beyond to make it special for us. Thank you so much to Mark Mitson too who made our wonderful wedding cake. It looked beautiful, and tasted even better!
We have always loved The Assembly House, and it's even more special for us now. It really is the best wedding venue in Norfolk!

James and Olivia
We both had an amazing time and most definitely the best day of our lives! Just a quick note to say the team were absolutely amazing: they went above and beyond and we'll definitely be recommending the venue!

Sylv Jones

Just wanted to say a massive thank you to all of The Assembly House staff for making our big day one to cherish forever. We couldn't have asked for nicer, more attentive staff to help us with one of the most important days of our lives. Guests commented on the exceptional food and were very impressed with the staff. We wouldn't change a thing and highly recommend The Assembly House as a wedding venue, particularly if you want a guaranteed stress free day!
Sarah and Mike
Right from when we booked 14 months ago, the team have been on hand to advise, answer questions and help us prepare, they are extremely organised, friendly and professional, and make you feel really special.
The day itself ran so incredibly smoothly thanks to the amazing team. The food (we had afternoon tea then a hog roast) was amazing and had lots and lots of compliments. Mark the Pastry Chef did a fantastic job and my Dad, who had a diabetic variant, said that his pastries looked like " a work of art."
The suite we stayed in (Room 1) was enormous. The ladies all got ready there in the morning and there was more than enough room thanks to the bedroom, massive bathroom and living room. The suite was a perfect place to stay and we already can't wait to come back! Also, the breakfast the next day was also fantastic.
We would like to thank the whole team for making our wedding day so perfect. We can't wait to come back and stay again soon!