Accessibility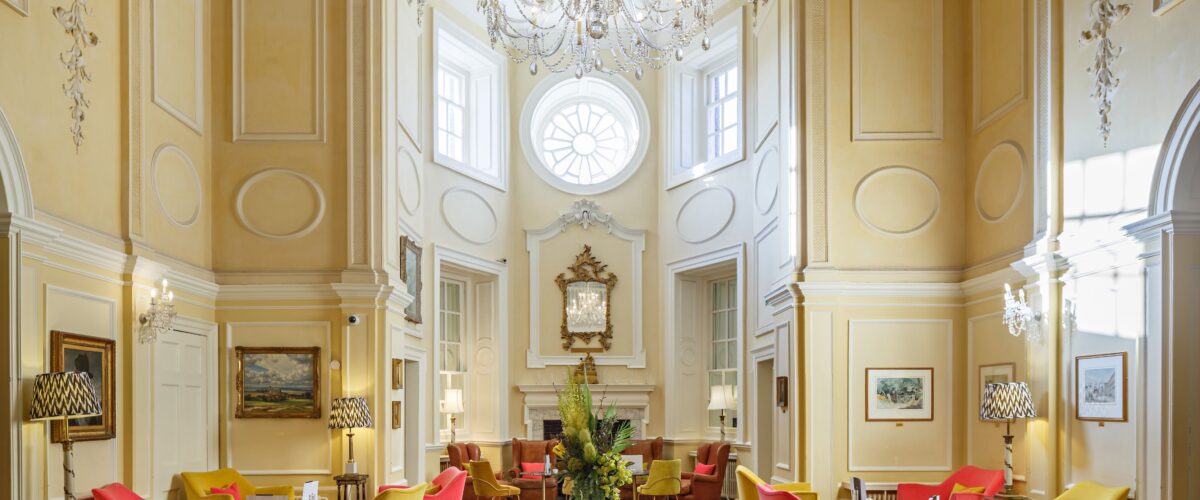 The Assembly House is for everyone and aims to be as accessible as possible. This page explains our facilities and our policies to help you plan your visit to us.
At a glance:
Step-free access at both main entrances
Accessible toilets
Accessible parking
Lift access to all floors
Guide and assistance dogs welcome
Family-friendly
Front door drop-off available for those with mobility issues
Registered member of Norwich City Dementia Action Alliance
A safe and welcoming atmosphere for the LGBTQIAP+ community
How to find us:
By foot: The Assembly House is in the very heart of Norwich and can be found on Theatre Street, almost next door to the Theatre Royal and opposite both The Forum and Chantry Place shopping centre. There is a ramp from the main doorway into the Grand Hall, and the door itself has a release button at 1m height—level flooring inside the House and a lift suitable for wheelchairs/prams to the first floor. The nearest bus stops are Theatre Street (150m), Red Lion Street (0.2 miles), St Stephens Street (0.2 miles) and Castle Meadow (0.3 miles).
The nearest train station is Norwich Station which is 0.7 miles from The Forum.
What 3 Words: pill.calls.breed
By car: From the Grapes Hill roundabout, take the exit signposted with a brown heritage sign to The Assembly House, which takes you to Chapel Field North, with Chapelfield Gardens on your right. Take the first turn on your right to Chapel Field East and take the first exit off the mini roundabout to Chantry Road. Approximately 200m along the road, you will find the entrance to The Assembly House's car park. Hotel guests have designated parking spaces from 3pm onwards on the night of their stay along two of the walls.
If you are arriving by taxi or being dropped off by car, please be aware that if you have mobility issues, you can ask to be dropped off directly at our front door.
What 3 Words for car park: pens.supper.driver
Parking
The Assembly House has two pay and displays designated spaces for disabled drivers in its car park at the rear of the building on Chantry Road. We cannot reserve any spaces – other than those for our overnight guests, who have designated parking spaces - in our 30-space car park, which can be found at Chantry Road Car Park, Chantry Road, Norwich NR2 1RF. The car park rate is £2.50 per hour; overnight guests have free car parking from 3pm on the night of their stay until 11am on the day of check-out.
What 3 Words: pens.supper.driver
For Blue Badge parking in Norwich, please see here: https://www.norwich.gov.uk/info/20008/parking/1086/blue_badge_parking_permit
If our car park is full, you can download a Norwich City Council Map here https://www.norwich.gov.uk/downloads/file/3368/norwich_parking_planner, which highlights every car park in Norwich, including at least four which are less than two minutes walk from The Assembly House – Chapel Field East (17 spaces), Chantry Place at Chapelfield (1,000 spaces), The Chantry (90 spaces) and The Forum (206 spaces).
Wheelchairs and scooters for hire
Norwich Shopmobility is a scheme which offers the loan of scooters and electric and manual wheelchairs to people who have mobility difficulties in making the city centre more accessible. You don't have to be registered as disabled to use the Shopmobility service. Some people hire a scooter or wheelchair if they have a broken limb, for example. Vehicles can be used anywhere within the Inner Ring Road.
Shopmobility can be found at the Chantry Shopping Centre, not far from the Forum, Chapelfield Gardens and Theatre Street.
Click here https://www.equallives.org.uk/shopmobility-norwich to find out more about Shopmobility.
Dementia Awareness
We are members of Norwich City Dementia Action Alliance. For more information, click here https://www.dementiaaction.org.uk/local_alliances/18517_norwich_city_dementia_action_alliance
Guide dogs and assistance dogs
As a heritage-grade listed building, The Assembly House cannot welcome dogs into the building or bedrooms unless they are guide or assistance dogs. We have dog beds, dog bowls and treats for such four-legged helpers.
Facilities for families
A ramp for easy access is to the left-hand side of the Stone Hall – the first room after walking through the front door - which leads into the Grand Hall. Please note on your booking form if you require a high chair or are bringing a pushchair as we need to allocate you a table with enough space to be comfortable.
We welcome families and children, although we advise that afternoon tea takes at least an hour to an hour and a half, and children must remain seated throughout as trays of hot drinks and food are being carried in the restaurant.
There are baby-change facilities towards the rear of the House. Parents are welcome to breastfeed or bottle-feed at The Assembly House in all areas.
Toilets
There is level access to visitor toilets on the ground floor of The Assembly House at the rear of the building, close to the car park entrance door. There are baby change facilities and an accessible toilet with a Radar key system installed to minimise the abuse of the facilities. You may have your Radar key, but these are also available to borrow from reception.
For more information about all public toilets and toilet accessibility in Norwich, including Changing Places toilets with enhanced facilities for disabled users, please visit Norwich City Council's information page here https://www.norwich.gov.uk/info/20007/events_tourism_and_culture/1716/public_toilets
The closest Changing Places toilet to The Assembly House is near the Dining Terrace at Chantry Place shopping centre, a five-minute walk from the House.
Safe space:
We are a safe space for everyone in the gender identity spectrum to be themselves while relaxing in our beautiful building. We have a zero-tolerance policy for discrimination against employees or customers.
As an Official Supporter of Norwich Pride, we pledge our business, organisation, or group will be a safe, welcoming, and friendly place for LGBTQIA+ customers and staff.
We will visibly support and promote equality for LGBTQIA+ people, challenge homophobic and transphobic behaviour, and have clear reporting mechanisms for harassment and discrimination.
We will ensure our staff are trained to understand the experiences of LGBTQIA+ people and how to be proactive ally.  
CCTV
The Assembly House operates CCTV in and around our buildings to protect visitors, guests and staff and prevent and investigate crime. We routinely delete footage after 30 days, although we may retain footage for a longer period if, for example, it is relevant to an investigation.
There is signage around the building advising that CCTV is in use.
Get In Touch
The Assembly House
For all general enquiries including wedding, private dining, corporate or questions about the House please use the form below and our team will aim to get back to you within 48 hours.